The 2022 Subaru Love Promise Community Commitment Award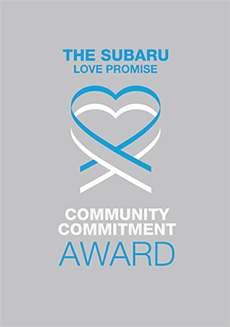 We've been nationally recognized for our dedication to our community and the Subaru Love Promise.
We're honored to receive the 2022 Subaru Love Promise Community Commitment Award. This award nationally recognizes Subaru retailers who are making the world a better place while demonstrating an outstanding commitment to supporting passions and causes in local communities. These efforts are focused in important areas such as the environment, community, health, education, and pets.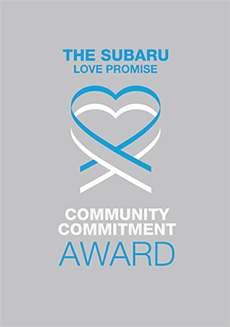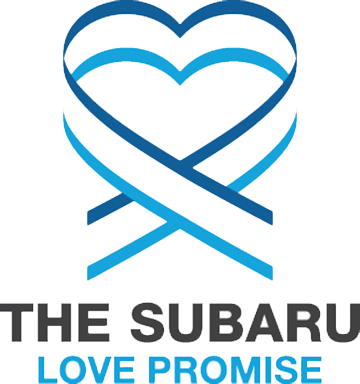 What is the Subaru Love Promise?
Subaru and our retailers believe in making the world a better place and the Subaru Love Promise is our vision of respecting all people. This is our commitment to show love and respect to our customers and to work to make a positive impact in the world.
How is Bud Clary Subaru Longview dedicated locally to the Love Promise?
Our Love Promise can be seen in various partnerships with local charities and non-profits. We're grateful for the opportunity, not only to be a part of our community, but to serve it as well.
Humane Society of Cowlitz County
PACE Perfect Attendance Creates Excellence
Love Promise Stories from Bud Clary Subaru Longview
Subaru and Bud Clary Subaru Longview believe in making a positive impact on the communities in which we live and work. We uphold that belief through our Love Promise Community Commitment. Every month, we select inspiring stories from customers and partners from around our area who strive to support our collective commitment and feature them here
Peace of Mind - Wendy K
Jenny has been receiving services since 1990. From July 1990 to September 2001 Jenny lived at Outward Bound. This was a great step for Jenny and she learned many things about living in town; how to get around, banking and budgeting, developing relationships with staff and clients, working and enjoying leisure activities. She was to move to her own apartment years before that actually took place. She has been extremely happy with her apartment, other clients and staff. Jenny always says "I love my staff, and they take great care of me!" As parents that gives us great peace of mind and we have definitely appreciated all the work the staff does to make her life enjoyable!" Alex and Marnee Alexander Because of the support of the Subaru Cares program, people like Jenny can live happy, healthy, and fulfilling lives.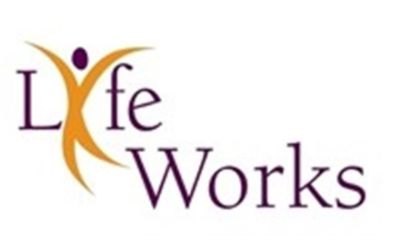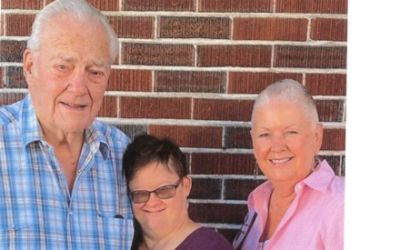 ---
Thank you from Miss Pruitt's classroom! - B P
We got so many neat things for our classroom. Thank you Bud Clary Subaru!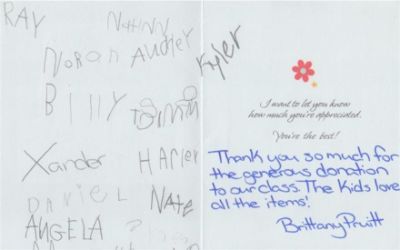 ---
New sensory bins and light table for room 14 - Miss L
Bud Clary Subaru, Me and my Kindergarteners can't thank you enough for your generous offer! I was able to buy a light table and sensory bins for the kiddos in room 14. Thank you!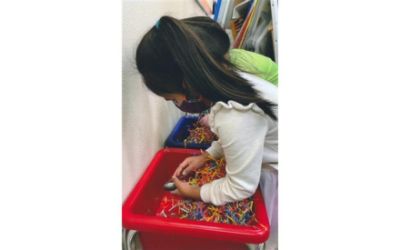 ---
Sharing the Love with Life Works - Dustin S
Bud Clary Subaru continues to support and share the love with Longview's Life Works organization and their mission to serve children and adults who experience intellectual and developmental disabilities in our greater Cowlitz County Community.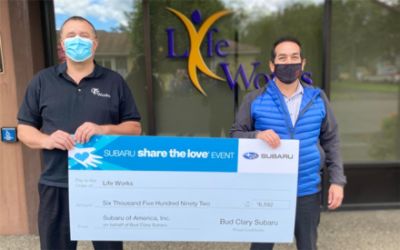 ---
Life Works Share the Love - Matty B
We are proud and honored by the generosity of our Subaru customers, and it was our pleasure to present a check and our continued support to Life Works.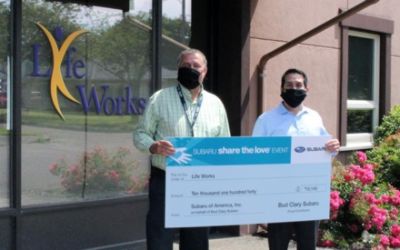 ---
Helping Families Find the Resources They Need - Wendy K
As an infant, Erebor experienced a "near-SIDS" episode that will impact him for the rest of his life. In talking to his parents, Ernie and Samantha, they will tell you that Erebor is 2/3 brain dead and not just anyone can take care of him. "For over a year, it was just Ernie and I with him. Then we heard of a parent counseling group called Holland. The first time we handed Erebor over to strangers, we were right down the hall from him, but still, it was very nerve-racking. Every session, they did better and better with him. Now we can just drop him off for respite care and not worry one bit." Ernie and Samantha connected with LifeWorks through a word of mouth referral. It's families like them that LifeWorks is aiming to impact. So many families have very few options for a starting place. A place that can give them the assurance of safety for their child, so that they can take a few hours each week to get information and support to move into the proactive side of raising a child such as Erebor; rather than simply always having to wait for the next unknown issue to arise. There are more families out there like Ernie, Samantha, Erebor, and Eden. Our job is to reach them and make a difference. Perhaps the most impactful thing that Samantha said to me is "Having a stranger watch my disabled son is nerve-racking, as it would be to any parent, but the people at Life Works are no strangers, they make you feel like friends and family". It's pretty clear why we at Life Works are inspired to help as many families as we can. Subaru Share the Love and Bud Clary Subaru are helping families like Erebor's to find the resources they need to live successfully in our community. LifeWorks is proud to partner with Bud Clary Subaru to extend our reach to more families in need.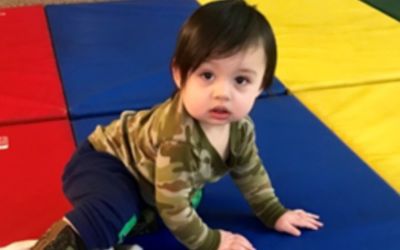 ---
Wallace Elementary Loves Learning - Mathew W
Bud Clary Subaru delivered four boxes filled with books to the students at Wallace Elementary School in Kelso, WA. Each book contains a donation card filled out by a Subaru customer and will go home with a student in need.
---
A Voice for Children - Mathew W
Bud Clary Subaru is proud to partner with Cowlitz County CASA (Court Appointed Special Advocate) for the annual Share the Love Celebration. Through the kindness of our customers, we were able to donate over $7,400 to the non-profit organization who help represent children who wouldn't otherwise have help in the dependency court system.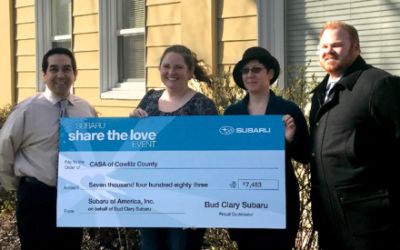 ---
Until they all go home - Mat W
The Humane Society of Cowlitz County is on a mission to save animals in need. Through the kindness of our customers and community, Bud Clary Subaru was able to donate food, towels, blankets, toys and more to aid the cause.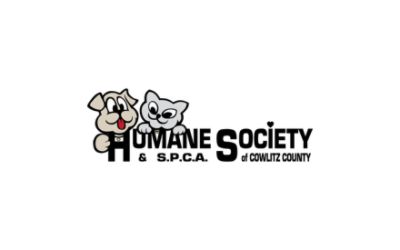 ---
Longview Schools Love Learning - Susan C
Please accept a big "THANK YOU" from Longview Schools for the fabulous selection of non-fiction books for our elementary students. Upon review of the titles and quantities of books, I wanted to let you know how the generous donation will be put to best use. We are trying to increase availability in classrooms of non-fiction titles so the books are being distributed to classrooms at each of our eight elementary schools consistent with the books' reading levels. Specifically, all second grade classes will receive a copy of Tiny Creatures; third grade classes a copy of Mission Mars; fourth grade a copy of Keeping Chickens; and fifth grade a copy of Octopus Scientist. We received one copy of How to Clone a Mammoth, and we will send that to the RAL library. We have a some books remaining, and we are sharing them with our education partner, St. Rose School. This program has been a big boost to our classroom libraries, and we are very appreciative. Again, many thanks!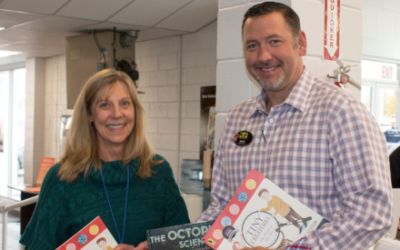 ---