About Us

Open Today!

Sales:

11am-5pm

|




Call us at: 360-575-6868
The History of Bud Clary
Birth. Bud Clary and Bud Westby purchased the Chevrolet dealership from Ralph Masterson in 1959, located on what was known as "Auto Row" on Vandercook Way. A year later, Clary bought out Westby and operated the dealership until 1967 when a new facility was constructed on Commerce Avenue in Longview, Washington.
Growth. In 1979, Bud Clary retired and his son, Jim Clary, took over as owner-operator. The Oldsmobile, Cadillac, Subaru, AMC and Jeep dealership was purchased from Ivan Thornley in October of 1985.
In 1987, a large lot was purchased for employee parking, but was soon converted to the new and used car department's "bullpen" and indoor basketball court. Basketball is still very important to the Clary's and you'll often find them shooting hoops locally or attending sporting events throughout Washington. Also that year, the Stephens Datsun facility, located across the street from Bud Clary Chevrolet, was purchased and later became the home of the Subaru and Jeep sales department. Their service and parts departments were combined with the existing service and parts department at 1030 Commerce Avenue.
In 1995, the 12,000-square-foot building at the north end of Commerce Avenue, was purchased and renovated into a new state-of-the-art body shop. The new facility, which includes three down draft paint booths, indicates the dealership's total commitment to body and paint repair in Longview.
Driving down Commerce Avenue in Longview, Washington, you're sure to see our Chevrolet and Subaru dealerships, along with our combined Service and Parts Departments, Paint & Body Shop, and Fleet Department.
Expansion. The Bud Clary Auto Group expanded from its base to purchase Toyota of Yakima in 2001. In 2009, it acquired Toyota of Moses Lake and Chevrolet of Moses Lake. In 2011, it acquired Moses Lake Chrysler, Dodge, Jeep, Ram. In 2012, the auto group added Ford and Honda dealerships simultaneously in Moses Lake. Then in late 2015, two more stores were purchased from Tom Matson and added to the family: a Hyundai dealership and an additional Chrysler, Dodge, Jeep, Ram dealership, both located in Auburn.
Keeping it in the family. Fast-forward to 2016 and Jim Clary signed on the dotted line handing his many dealerships down to his two sons, Kelly and Bryce Clary. The Bud Clary Auto Group truly is a family-run business and loves serving its surrounding communities. Jim still likes to pop in and make sure everyone is on their toes and we appreciate his admiration for continuing to play a role.
Thank you. Through the years, growth in the dealerships has increased the number of employees from 15 to over 400 and is still growing! The growth and expansion of this corporation has been due to the fine quality of employees throughout the years, as well as our loyal customers. Because of this stability, we are sure to have steady growth in the future and maintain dominance in the automobile industry in the Longview, Kelso, Yakima, Moses Lake and Auburn areas and beyond.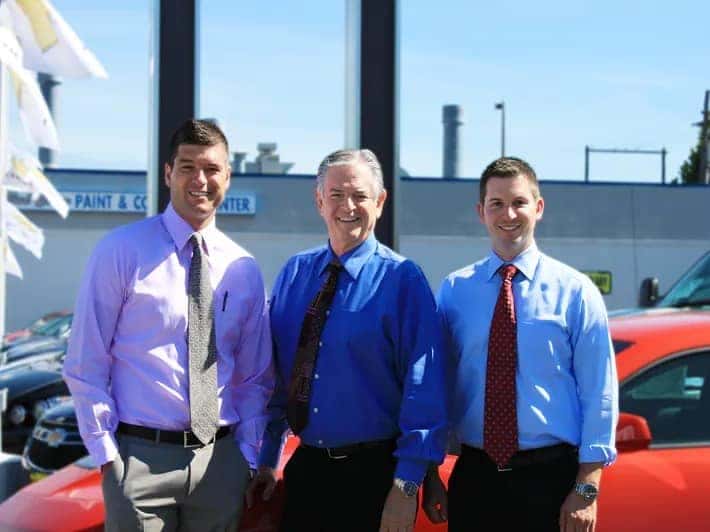 Mon - Fri

8:30 AM - 7:00 PM




Sat

9:00 AM - 6:00 PM




Sun

11:00 AM - 5:00 PM



Mon - Fri

7:30 AM - 6:00 PM




Sat

8:00 AM - 3:00 PM




Sun

Closed
Mon - Fri

8:00 AM - 5:30 PM




Sat - Sun

Closed
---
About Bud Clary Subaru - a Longview New & Used Subaru Dealership
Bud Clary Subaru is proud to serve Longview with quality Subaru vehicles. With models like the Subaru Legacy, Crosstrek, Forester, Impreza, Outback, BRZ, and the New 2022 Subaru Ascent SUV. we have something for every taste and need. Come visit us at 961 Commerce Ave to see our vehicles and take one for a test drive.
If you're looking for a used car in Longview, we can assist you there as well. Visit our inventory page to see our large collection of pre-owned vehicles. And remember buying a car in Longview can save you hundreds of dollars compared to shopping in Seattle, we have lower taxes!
Bud Clary Subaru is not just your Longview Subaru dealership, we also provide a full line of services dedicated to our Castle Rock WA, Kalama, and Kelso, Washington customers. From Subaru car repairs in Longview performed by expert mechanics, to OEM Subaru auto parts, to car loans, Bud Clary Subaru is the smart choice for your automotive needs.
Come in and say hi! We're located at 961 Commerce Ave Longview, WA, and we proudly serve residents from Castle Rock WA, Kalama, Kelso & beyond! You can also give us a call at any time if you would like to schedule a test drive or if you have any questions prior to your visit. We hope to see you at our dealership soon!