Used Subaru for Sale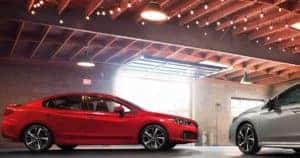 When it comes to your next used vehicle, you shouldn't have to settle for anything less than the perfect one. When that vehicle is a Subaru, you know that you can depend on it now and for many years and miles yet to come. Whether you are in the market for a car, truck, or SUV, a used vehicle is a great way to get more vehicles for less of your hard-earned money. At Bud Clary Subaru, we are proud to carry only the best used Subaru vehicles around. Come see just what you have been missing and learn all about the reasons that shopping used is shopping smart.
Reliability: Subarus are known for their reliability and durability. They are built to last and can often withstand tough weather and road conditions.
All-wheel drive: Most Subarus come equipped with all-wheel drive, which can be an advantage in snowy or wet conditions. This feature can make Subarus a good choice for people who live in areas with inclement weather.
Safety: Subarus are known for their safety features, such as their EyeSight driver assistance technology, which can help prevent accidents and improve overall safety on the road.
Resale value: Subarus hold their value well, meaning that they can be a good investment as a used car. They are also in high demand, which can make them easier to sell if you decide to do so in the future.
Affordability: Buying a used Subaru can be an affordable way to get a high-quality vehicle without the higher price tag of a new car. Additionally, used Subarus can often be found with low mileage and in good condition.
When you make the important decision to bring home a used Subaru vehicle from Bud Clary Subaru, the fun is just beginning. Whether you are looking for a better way to get to work or getting ready for an important summer road trip, a used vehicle will help you save money up front and over the life of your vehicle. Come see our current selection in person or online and let us help you get behind the wheel of your next used Subaru today.